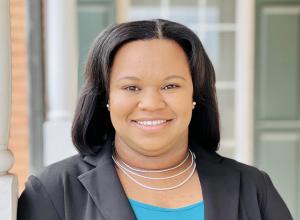 Young Leaders UNITED Cabinet Member
Quandrea is the Vice President & Market Relationship Banker at Origin Bank and serves on United Way NELA's Young leaders UNITED Cabinet. Quandrea is passionate about Young Leaders UNITED and United Way's mission because she knows that the true way to show gratitude to your community is to invest in its future, and she understands how important the young leaders of today are to our future. She is a firm believer in leading by example, and she believes she has an obligation to grow young leaders so that they can have a strong foundation to create a solid future.
Quandrea has a Bachelor's Degree in Accounting and a Master's Degree in Business Administration with a concentration in Finance and Accounting. She is a Certified Banker from the Graduate School of Banking at LSU and is a graduate of the Leadership Ouachita class of 2018. She is a member of Sigma Iota Epsilon, volunteers with Food Bank of NELA, Boys & Girls Club of NELA, Bank at School, and with United Way NELA in multiple capacities, including Read.Learn.Succeed, Dollars & $ense, and Campaign Cabinet.
Quandrea has been married to my best friend and husband, Phillip Allen, since 2012. Together, they enjoy traveling and visiting other countries, spending time with family, movie and game nights, sports and outdoor activities, and doing small reno/rehab projects. As a former dancer, she loves any and everything dealing with theatre and performing arts. She also enjoys crafting and thrifting whenever she has a chance. But most of all, she enjoys working and spending time in her flower gardens and beautifying the landscape.